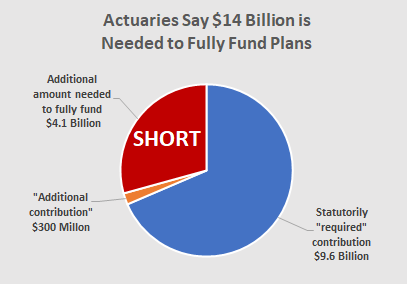 On the heels of credit rating upgrades, Illinois has sold $1.6 billion worth of bonds to fund a pension buyout program and construction projects. As the Chicago Tribune reported, Gov. J.B. Pritzker touted the upgrades lauding Democratic leaders for their work "to make sure that we're back in good fiscal order, that the state is building its fiscal foundations for the road ahead." But as Hetty Chang of Moody has stated, ratings are not "public policy report cards, although politicians may use them as such." Credit ratings do not focus on the overall financial condition of the state; they focus on the likelihood of bonds being paid.
And if the state is in such "good fiscal order," then why did it need to borrow money?
READ MORE
Includes: "New York City is in trouble. A new report by Truth In Accounting, a nonpartisan nonprofit that specializes in government transparency, shows that New York City has $204.4 billion in debt—$71,400 per taxpayer. This means that each taxpayer would have to pay $71,400 in future taxes without receiving any related services or benefits."
READ MORE